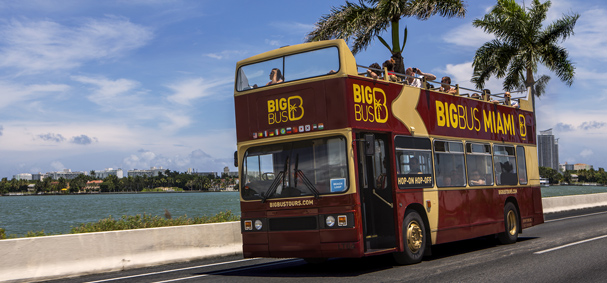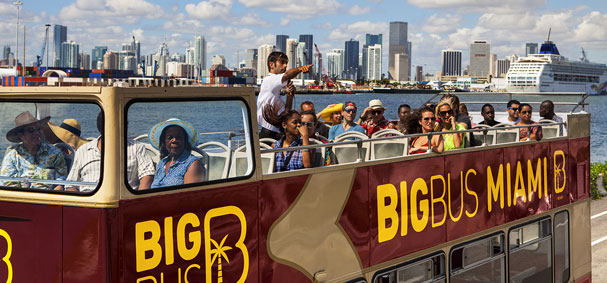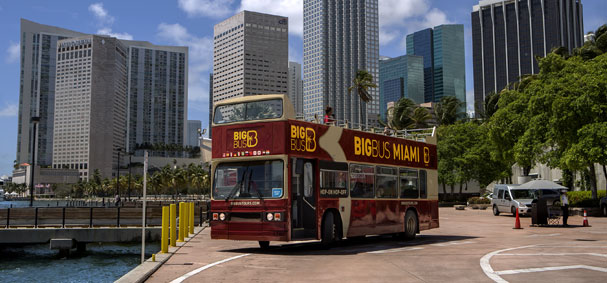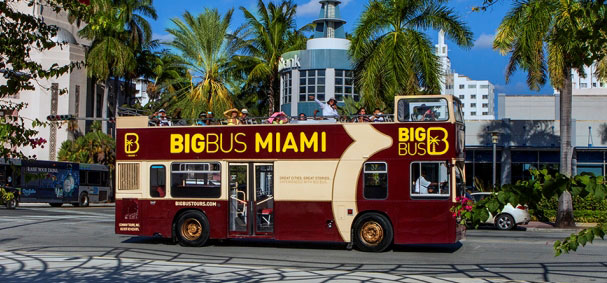 HOP-ON HOP-OFF BUS TOURS
This unique tour provides the most convenience while visiting Miami because you can Hop-On Hop-Off anywhere as you please. If you want to shop in Coconut Grove in the morning but sun tan on Miami Beach in the afternoon and watch the sunset on a boat in the early evening then this Hop-On Hop-Off bus tour is for you!
Miami's only Hop-On Hop-Off Bus Tours enable the total flexibility to create your own itinerary and see the sites that are of interest to you. Even if you want to stay at one destination longer then catch the next Hop-On Hop-Off bus to the next destination, it is totally easy.
The tour offers a fantastic view of Miami from the city's only double decker open top sightseeing buses.
The Hop-On Hop-Off Bus Tour route is designed to feature the very best of Miami with sightseeing, attractions, art, architecture, museums, shopping and plenty of dining opportunities at every stop. Every main area, district and must-see place is covered through their route with main hubs being South Beach, Downtown Miami, and Coconut Grove.
Enjoy a one-of-a-kind narration by live guides. From hip to history, from public art to Art Deco - our entertaining tour introduces the magic city with facts and fun. Miami's International flavor, natural beauty, celebrity intrigue, cultural depth, iconic landmarks, diverse neighborhoods and rich history come alive as we blend the past, present and future. The tour narration is exclusively ours and has been developed with the guidance of Miami natives, city and county officials and area experts, including our featured artist and cultural advisor, Xavier Cortada.
Choose from the many individual or combined Miami Hop-On Hop-Off Bus tours for the package that best suits your needs.
Tour Highlights
Map
Route
South Beach
MarcArthur Causeway
Downtown
Little Havana
Coconut Grove
Coral Gables
Art Deco District
Freedom Tower
Ocean Drive
Vizcaya Museum and Gardens
Venetian Pool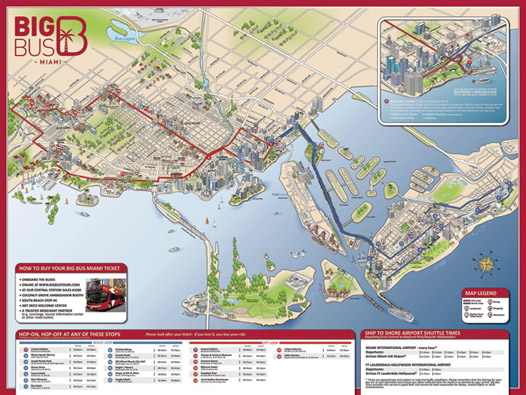 Little Havana Walking Tour
Free walking tour with 48 Hour All Loops Tickets
If you haven't had a Cafecito (Cuban Coffee) in Little Havana, you haven't experienced Miami. Stop #20 on our City Loop takes you to the heart of Little Havana - the Miami neighborhood - where Cuban immigrants migrated in the early 1960's.
Our guided walking tour will give you a brief history of the Cuban people's settlement of this area; how it's changed over the years and world events brought on by the Cuban Revolution. You'll see the Walk of Fame, Cuban Memorial Boulevard, Domino Park and Cuban Cigar rolling techniques and of course sample a Cafecito.
For walking tour departure times, please consult a Big Bus Representative.
STEP 1: CHOOSE YOUR OPTION
Hop-On Hop-Off 1-Day Pass
Top Seller